4 Key Reasons to Get TABC Certified This Holiday Season
November 22, 2017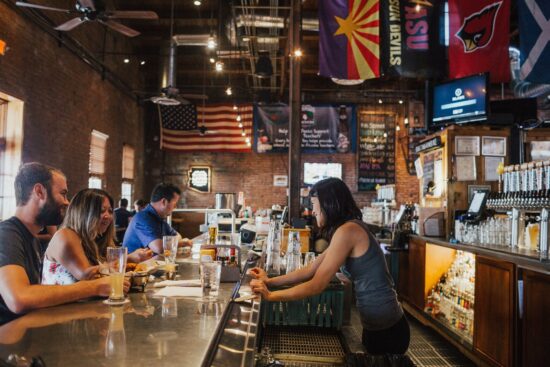 When selling or serving alcohol to the general public like in a restaurant, bar, hotel, grocery store, liquor store, or convenience store, safety should be your number one priority. If you are looking to get into the restaurant or service industry then you need to understand the importance of being TABC certified with a Texas Food Handler's Certificate and TABC Certificate through the Texas Alcoholic Beverage Commission. These certifications allow you to safely work with food and alcohol.
Taking the steps to become food handler certified is great for obvious reasons, but here are some of the top reasons to make the moves towards becoming TABC certified this holiday season:
1. You play a vital role in public safety.
That's right. You may have never thought about it, but as a seller-server of alcohol you play an extremely important role in public safety. By avoiding alcohol sales to minors and intoxicated people, you have a direct impact on keeping drunk drivers off the streets and preventing the property damage, injury, and death that often occurs as a result. Drunk driving is a major problem in Texas, so do your part this holiday season by getting TABC certified and putting into action what you learn from the course.
2. Your employer probably requires it.
Businesses and other organizations that are licensed or permitted to sell or serve alcohol must follow the laws, rules, and regulations of the TABC. In order to carry out responsible alcohol sales in a position like a server, bartender, or cashier, you also have laws and rules to follow. While TABC certification is not required by law, most employers across Texas will require you to be TABC certified because it helps to keep bars and restaurants safe, and impacts their eligibility for Safe Harbor protection.  
By becoming TABC certified you will be able to sufficiently understand how to prevent the sale of alcohol to minors, intoxicated persons, or non-members of a private club. These are some areas where businesses like restaurants and bars and also you as a seller-server have tremendous liability, so it's important to take TABC certification seriously.
3. Your TABC Certification is valid for 2 years.
By taking the quick steps of enrolling in an online TABC certification course, you are well on your way to earning 2 years of certification and making yourself an attractive applicant for employment. This allows you to use these two years to really hone in on the professional aspect of your career and become as experienced as possible in your field of work. A well-trained seller-server is a trustworthy employee, and restaurants, bars, and other businesses that sell and serve alcohol are always looking for employees who can be trusted. Becoming officially certified and being a responsible seller-server will help you get a job and keep it.
4. You have nothing to lose and everything to gain.
Our online training program is self-paced and only $10.99. That means you control the amount of time it takes to complete the course. Getting certified for TABC has never been more convenient and user-friendly, allowing you to get your TABC certification online from anywhere using a desktop computer, laptop, tablet, phone, or any other internet-ready device.
Get TABC Certified and Your Food Handler's Card Today
Now is the time to take control of your career in the service industry and earn both your Texas Food Handler Certification and your TABC Certification. With affordable online programs from TABC On The Fly and Certified On The Fly, you can earn both of these certifications quickly and affordably. Enroll today to get started!
Back to Blog