4 Personal Reasons to Get TABC Certified
June 10, 2020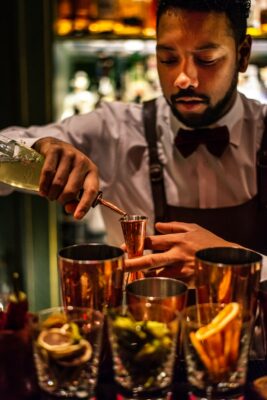 When someone takes a TABC certification course, the intent is usually because they were forced to by their employer. While most employees in the service industry need to be TABC certified in order to stay in their position, a TABC certification can provide several personal benefits that often go unnoticed.
Here are some of the overlooked ways that TABC On The Fly can help someone beyond protecting their place of employment.
You can Protect Yourself
If you're working the bar or serving drinks and something goes wrong, not only is your workplace in trouble, but you are also on the hook as the responsible party. TABC On The Fly can teach you the essentials of protecting yourself at the workplace with skills that include:
Knowing when to stop serving an intoxicated person
How to spot a false identification
Specific instances outside of intoxication when alcohol can't be served
Legally marketing your services
Remember, if you are the person who broke the law, charges can be filed against you. Take the steps to protect yourself on the job by registering today with TABC On The Fly.
You Become an Asset to Your Community
When you earn your TABC certification, you gain knowledge of how to keep your guests safe. A customer's safety is your responsibility. So when you know how to approach specific situations like getting someone home safely or de-escalating a potentially dangerous situation, you become an asset to your community beyond the doors of your employer.
You Stay Caught Up With Current Regulations
Rules and regulations change, and you're responsible for staying on top of the legalities of your profession. It's important to stay current with your TABC certification because each course you take will get you caught up on what's new in the industry.
With this knowledge on your side, you can become an even better employee because you've taken the necessary actions to make the safety of your establishment your priority.
Increased Job Security
Finally, with a TABC certification, not only can you remain in good standing with your current employer, but it'll be easier for you to pick up side gigs when you need to. A TABC certification isn't a legal requirement, so when a wedding party or similar event is looking for a reliable and knowledgeable server, your certification can quickly get you to the top of the hiring list.
Take Your Next Steps into Certification With TABC On The Fly
Getting TABC certified is now simple through the online courses offered through TABC On The Fly. Through our program, you can learn all of the essentials that will make you an asset at any establishment with a liquor license.
We value your time and don't force you to complete your studies within our schedule. Earn your certification on your own time and from the comfort of your own home. Register online today and find out why we are Texas' preferred certification course.
Back to Blog