Introducing Certified On The Fly
June 6, 2017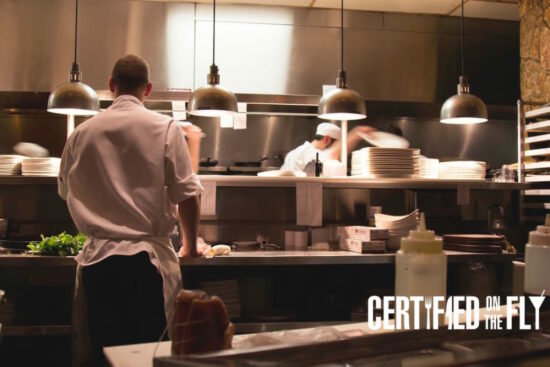 If you need your TABC certification online, you might also need your Texas Food Handler certification online.
Certified On The Fly is the new way to get your online Texas Food Handler certification. The goal of Certified On The Fly is to give you the training you need to make informed decisions, follow the law, and keep you, your employer, and customers safe. They aimed to create the most intuitive, user-friendly online Texas Food Handler course on the market.
Why should you get Texas Food Handler certified? Because you'll learn valuable information that will keep people safe, including yourself and your coworkers. This includes topics like How Food Becomes Unsafe (Foodborne Illness), Good Personal Hygiene, Controlling Time and Temperature/Requirements, Preventing Cross Contamination, and Cleaning and Sanitizing.
As a professional food handler, you play a vital role in protecting your community from potentially deadly foodborne illness. It's important to remember that everyone has skin in the game when it comes to proper food safety procedures. Practicing safe food handling procedures protects you, your coworkers, and your customers from potentially deadly illnesses. It also protects you and your employer from potential liability.
The Centers for Disease Control and Prevention (CDC) estimates that 1 in 6 Americans gets sick from consuming contaminated foods or beverages each year. This equates to 48 million people getting sick from foodborne illness every year. 128,000 of these people are hospitalized, and 3,000 of them will die.
These statistics should tell you that practicing safe food handler procedures is critical in keeping people safe and healthy. You personally play a very important role in making sure your customers don't get sick, hospitalized, or even die as a result of foodborne illness.
So whether your current employment is a job or a career, you should always remember that the health and safety of your customers is in your hands. Certified On The Fly is proud to deliver the training you need to make wise, informed decisions. To get your Texas Food Handler certificate online for only $9.99, head over to Certified On The Fly to enroll now.
Certified On The Fly is an official Texas Food Handler Online Training Program licensed and accredited by the Texas Department of State Health Services.
Back to Blog