TABC Certification Online 101: Signs of Intoxication
October 22, 2014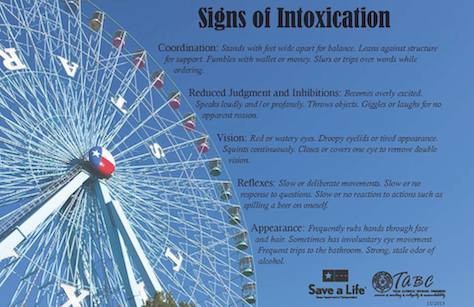 As we always say in our on-site and online TABC certification courses, recognizing  a suspected minor is legal and refusing to make the sale is somewhat easy. Either the customer is 21 years old and has proper ID or they don't. It's pretty cut and dry. The truly hard part of being a seller-server is dealing with intoxicated people and those who may be pushed over the edge into intoxication if you serve them another drink.
Signs of Intoxication According to TABC Certification
So how are you supposed to recognize signs of intoxication? According to the TABC, here are some things to be on the look for:
Coordination: Stands with feet wide apart for balance. Leans against a structure for support. Fumbles with wallet or money. Slurs or trips over words while ordering.
Reduced Judgement and Inhibitions: Becomes overly excited. Speaks loudly and/or profanity. Throws objects. Giggles or laughs for no apparent reason.
Vision: Red or water eyes. Droopy eyelids or tired appearance. Squints continuously. Closes or covers one eye to remove double vision.
Reflexes: Slow or deliberate movements. Slow or no response to questions. Slow or no reaction to actions such as spilling a beer on oneself.
Appearance: Frequently rubs hands through face and hair. Sometimes has involuntary eye movement. Frequent trips to the bathroom. Strong, stale odor of alcohol.
TABC On The Fly is an official, approved provider of on-site and online TABC certification licensed by the Texas Alcoholic Beverage Commission. 
Back to Blog