TABC Inquiry | Check My Certificate Status Online
June 27, 2014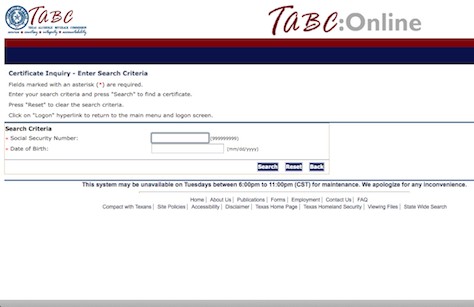 Check On Your TABC Certification Online
Did you know you can check when your TABC certification expires online on the TABC website? In fact, you can even use this as proof of certification if you happen to lose your certificate! Here's how you do it:
Click Certificate Inquiry;
Enter your Social Security Number, Date of Birth, and follow the security measures;
Click Search;
That's it! It will pull up your entire history of TABC certification, including your expired certificates. This is a great tool for both seller-servers and managers during the hiring process, and the TABC says a printout of this page directly from their website showing you have a current TABC certification is just as good as a certificate. If you just passed an on-site or online TABC certification class and don't see your information in the database though, don't worry about it and keep checking back. Providers of online and on-site TABC certification like TABC On The Fly are required to upload your information to the TABC's database within 14 days of you passing the class.
If you have additional questions, check out our Frequently Asked Questions page for easy answers.
TABC On The Fly is a leading provider of on-site and online TABC certification approved by the Texas Alcoholic Beverage Commission. 
Back to Blog