How to Keep Your Bar's Halloween Events Happy
October 4, 2022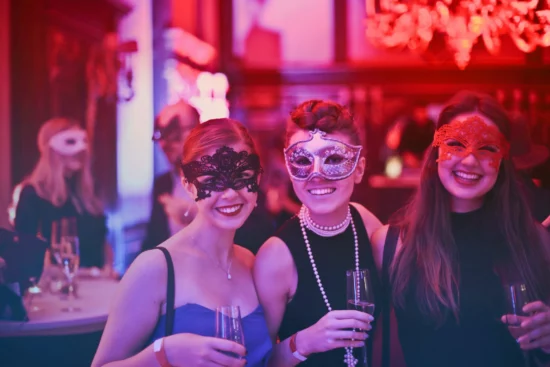 October is here and it's time to start planning for your bar's themed events for the season. While Halloween is meant to be a night of mischief, the last thing you want is something to go wrong on or around your property.
Dram Shop Laws have serious consequences like fines, jail time, and pulled liquor licenses. Make sure your Halloween plans don't end up in the ruin of your business.
Schedule Extra Security
Halloween can be a rowdy night for bar owners. Make sure that you have extra security scheduled for the night. Hired help can assist with checking IDs at the door, keeping patrons under control, looking out for suspicious activity (i.e. drugged drinks, theft), and ensuring everyone in attendance has a fun, safe time.
Decorate With Safety in Mind
Decorating for Halloween is one of the season's highlights for any business owner. However, some of the most popular decorations, like Jack-O-Lanterns, involve open flames that create an immediate threat in a bar setting.
While you don't have to forgo this Halloween tradition, skip the open flame and invest in some electronic candles. They produce the same effect and keep your decorations fun without the real-life fear in place.
Post Your Costume Accessory Guidelines
Many costumes come with accessories that, while fake, can create some mayhem in the vicinity of a dark bar hall. Fake knives, toy guns, foam bats, and other "weapon accessories" should be turned away at the door.
Either a guest can put their accessories in their vehicle, or your staff can hold onto them until the guest leaves. It may seem like a damper on a person's holiday fun, but you want to avoid any and all possible mixups that could occur on Halloween night.
When to Say "No More"
Cutting someone off at the bar is purely at the bartender's discretion. However, to keep Halloween a safe holiday for everyone, it's always best to say someone's had enough when they exhibit the following signs of intoxication:
Physical stumbling
Vomiting
Slurred speech
Heavy alcohol breath
Falling asleep at the bar
Have a Call Service On Stand-By
As holidays come quickly after September, drunk driving is one of the biggest threats from Halloween until the end of the year. Have a driving service like LYFT or UBER at the ready for patrons who have indulged too much at your celebration and pose a threat behind the wheel.
They can always pick up their vehicle and your ride-share bill in the morning.
Keep Your Employees in the Know
This tip is especially important for Halloween Night itself. If you run a bar, it's likely in a populated area where people will wander around and celebrate a good time.
Warn your employees about the population in the area and have them keep a close eye on people around your premises when leaving work in their vehicles.
Also, have employees keep an eye out for patrons trying to drive away drunk in their vehicles. If an injury or death occurs on the property or as a result of someone leaving your property, you and your employee could be held as responsible parties.
Need More Help with Alcohol Service Safety? Register with TABC On The Fly
If you are preparing for Halloween and the holiday season, it's time to consider getting you and your staff TABC Certified.
TABC On The Fly's certification course is 100% online, extremely affordable, and lets registrants work through the program at their own pace.
We even offer employer accounts that let you get your team certified at once for a discounted price.
Register online today and make the end of 2022 a safe time for your establishment.
Back to Blog