Tips to Effectively Promote Your Bar in 2020
January 9, 2020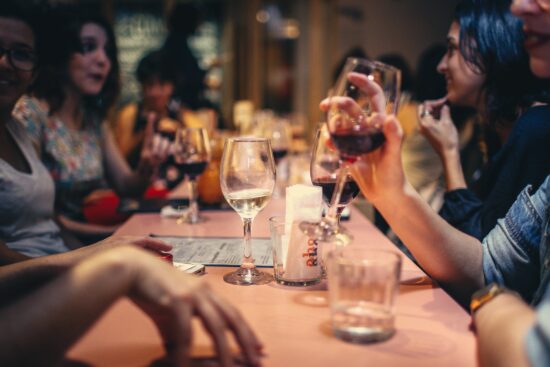 Your bar's marketing techniques play a huge role in the success of your establishment. However, in order to stay in line with TABC standards and promote your bar well, there is a fine line your business needs to tow.
As 2020 takes over our calendars, here are some quick tips to consider when approaching your New Year's promotional plans.
You Can Be Basic And Creative
If your location doesn't have the biggest budget on the block for advertising, don't sweat it! The old fashioned chalkboard and chalk is always a great and affordable option.
This basic advertising technique can easily match the ambiance inside of your bar. This is important because, especially with bars, the book is almost always judged by its cover. Sell your image without breaking the bank using this age-old technique for boasting happy hour specials and more!
Put Your Purpose First
When you look at your bar, what do you see? Is it a high-class wine bar where downtown employees can relax and unwind? Or is it a gastropub that aims to attract the younger, more raucous crowd on Sunday Funday?
Effective promotion is all about understanding the purpose of your bar because attracting the right clientele is the ultimate goal as a manager. You want your crowd to feel comfortable and ready to keep safely drinking at your establishment. Draw in the right guests with marketing that clearly displays the ambiance your business aims for.
Offer Discounts, but Stay Strategic
Regular discounts at your location are a great step towards building up a local reputation and creating loyalty amongst customers. However, approach your discounts strategically so that people who don't regularly visit your bar don't think you promote low-quality products or can't manage to draw in crowds without a discount.
Some strategic tips for offering discounts can be:
Creating events surrounding your discounts
Advertising your discounts on social media accounts
Discounting new menu items
Discounting for specific numbers in groups
Remember What is Prohibited With Advertising
While getting creative with your marketing is encouraged, it is also essential to remember what you can't include when advertising specials or general products. Some of the prohibited advertising moves include:
Misleading or false statements
Competitor slander
Obscene advertising
Inconsistent statements surrounding approved labeling
You can learn more about the approved marketing practices for alcohol manufacturers, wholesalers, and retailers on the TABC's website here.
Understand Selling and Serving Alcohol With TABC On The Fly
Staying in line with TABC regulations can be stressful for managers and business owners. Although marking and advertising isn't covered in the TABC certification course, getting yourself and your employees up-to-date in regards to TABC certification is simple when you get TABC certified with TABC On The Fly. Our online course allows you to get TABC certified online at your own pace. We are ready to help your establishment be TABC-ready. Enroll today to start the certification process!
Back to Blog