Top Tips for Alcohol Service at Company Events
February 10, 2022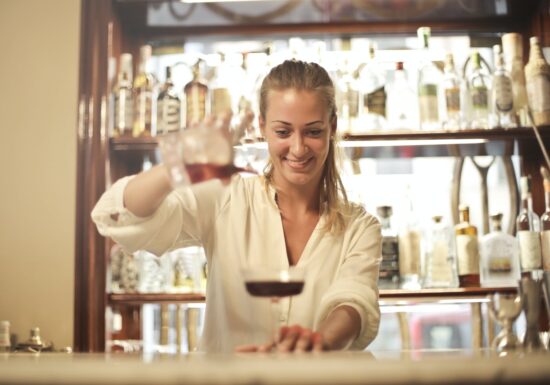 In 2022, we predict that companies will once again start hosting larger events that require catering and alcohol service.
If another company contacts your business inquiring about event alcohol service, make sure that you're ready to show up with your best foot forward.
Here's a look at some of the top tips to follow when serving alcohol at a third-party company event.
Be Prepared With an Identification Plan
Third-party events often draw families and come with the risk of minors trying to sneak some alcohol with a fake ID.
As a bartender, you need to come prepared with a plan to check for false identification, because if you accidentally serve a minor alcohol, it's your future on the line.
Some of the most successful ways to identify a fake ID are:
Cheap laminate across the identification card
Physical discrepancies between the photo on the ID and the holder
The ID has square or ragged edges
Lack of holographic image in the light
Have Non-Alcoholic Drinks on the Menu
With the fact that minors may be present in mind, make sure to have some non-alcoholic beverages at the ready for minors and those not imbibing to order. From sodas, to juices and even specialty "virgin" drinks, having this option on your menu makes everyone feel included and could prevent someone from over-drinking.
As a bonus tip, always have water on-hand to offer those who may be on the verge of over-consumption or request water to drink.
Coordinate a Drink Limit and Shortened Happy Hours
Whatever you do, do not offer to host an event that demands an open bar. Too much can go wrong and you would be held liable as a server.
Before the event, speak with the host and set a strict drink limit and timeline for Happy Hour. Not only does this prevent over-consumption and help protect your reputation as a server, but it also steers the focus of the event away from alcohol.
Your host will appreciate your drink limit and limited Happy Hour timeframe; after all, they want to look their best as the company representative in front of their employees and their families.
Know When Someone Has Reached Their Limit
As a member of the alcohol service industry, it's part of your job to let people know when they've "had enough."
Knowing the signs of someone who is intoxicated helps prevent alcohol poisoning, physical altercations at the event, and the risk of someone leaving quickly and driving under the influence.
Some of the biggest signs of intoxication that indicate it's time to cut someone off are:
Confusion
Slurred Speech
Quick Personality Changes
Impaired Motor Skills
Vomiting
Be Ready to Serve at Any Event With TABC On The Fly
Getting TABC certified isn't the law, but it definitely helps your establishment and employees stand out in a saturated market. Our online course is affordable and allows you and your team to work through its content at your own pace.
We know how important it is to be prepared for any situation in the alcohol service industry, and that's why we've dedicated our online course to providing only the most up-to-date information you and your employees need.
Register online today to get your bar or restaurant ahead of the competition.
Back to Blog