8 Ways a Restaurant Could Lose Its Liquor License
October 2, 2018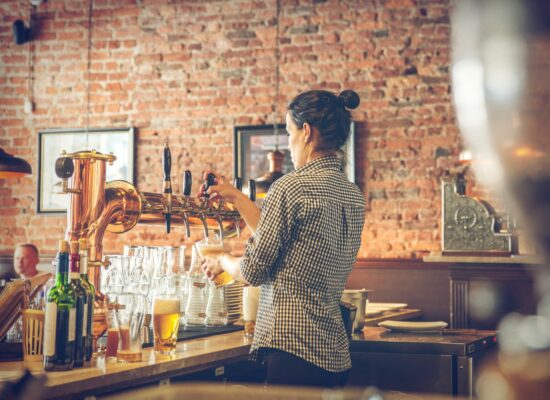 Serving alcohol at a restaurant is not a right. It's a lucrative business opportunity that requires your location to obtain a license or permit to sell beer, wine, and liquor to the patrons who walk through your doors.
However, without a TABC certification, your team could be poorly trained and make mistakes that cause your restaurant to lose its liquor license. Here are eight of the most common offenses that a TABC certification can help prevent:
1.   Serving Minors
Not selling alcohol to a minor is easy: Your customer either has their ID on them or they don't, and the ID either meets the required standards or it doesn't. It's very straightforward. However, many seller-servers have found themselves in jail after selling or serving alcohol to a minor. Some of them even checked the minor's ID, they just did it poorly. Humans have been known to make stupid mistakes and seller-servers are not immune from this, particularly when they get slammed during their shift.
If you should have reason to believe your customer may be under 21 years of age, you need to check their ID and make sure it meets the standards taught in our course. TABC certification can also help you identify fake IDs.
2.   Service to Intoxicated Customers
Your restaurant can be held liable for any third-party incidents that occur after an intoxicated patron leaves your establishment. You could lose your liquor license if you sell or serve alcohol to a customer who is exhibiting signs of intoxication.
Knowing the signs of intoxication when a person who has had one too many drinks is crucial and being educated on the subject could help you avoid serving an intoxicated person that could cause injury or property damage when they leave your establishment.
3.   Selling During Unauthorized Times
In Texas, there are certain times when alcohol simply cannot be sold or served at your restaurant, so it's important to be aware of the alcohol regulations in your state. For example, if your Texas restaurant serves alcohol before noon on a Sunday, you are in danger of losing your license unless it's served in conjunction with the service of food.
4.   Being Intoxicated on the Job
It is illegal for you or your employees to be intoxicated on the premises where you work. Not only is it completely unprofessional, but it is also extremely dangerous. As a seller-server, you play an important role in keeping drunk drivers off the streets. You can't do that if you're drunk yourself.
5.   Allowing Illegal Activity
Allowing illegal activity to take place in your establishment can quickly land you in some very hot water. Don't believe us? Google it. It's easy to find stories online detailing how TABC shut down businesses that were knowingly allowing illegal activity in their establishment. Examples include drug activity, prostitution, illegal gambling, and human trafficking.
6.   Poor Documentation
Keeping accurate records is important for any business, and that includes copies of alcohol-related invoices. You must keep copies of invoices on-site and all alcohol you currently have in stock must be accounted for in those invoices.
If TABC agents drop by your restaurant for an inspection, you can bet they'll ask to see your invoices. Be organized and prepared.
7.   Buying Alcohol From Anyone Other than a Distributor
If you own or manage a restaurant or bar, you know (or should know) that Texas has a three tier system comprised of Manufacturers, Distributors, and Retailers. As a retailer, you are only allowed to purchase alcohol from distributors. You cannot purchase alcohol from another retailer. What does this mean? It means if you run out of Bud Light during a busy shift, you can't just make a quick run to Kroger.
8.   Refilling Liquor or Wine Bottles with Cheap Stuff
This is one of the most despicable, deceptive, and fraudulent things you can do in the restaurant industry. This happens when a restaurant or bar employee refills liquor or wine bottles with lower grade, less expensive liquor or wine. An example would be filling an empty bottle of Pappy Van Winkle with Jim Beam and selling it at the Pappy Van Winkle price. If you're caught pulling this nonsense or allowing it to happen in your establishment, expect to be shut down. Do not expect, however, anyone to feel sorry for you, because you don't deserve to be in business. When you intentionally deceive your customers, you don't deserve their hard-earned money.
On a side-note, when you engage in this pathetic behavior of refilling bottles, you're also participating in tax fraud. Have fun dealing with that.
Get Your Servers TABC Certified With TABC On The Fly
Getting TABC certified has never been easier than with TABC On The Fly. Our online course allows you and your employees to become certified quickly at a low price point. Enroll in our TABC certification course today!
Back to Blog