Steps to Becoming a Texas Bartender
September 10, 2022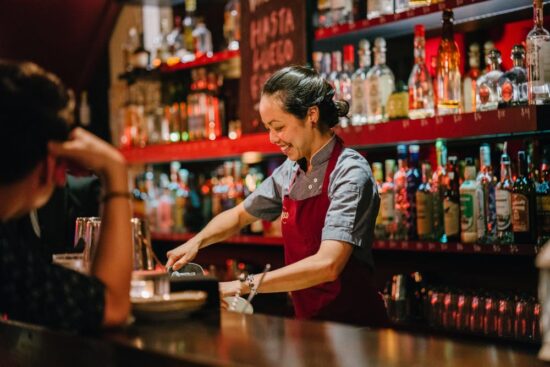 Becoming a bartender in Texas can be a lucrative career with plenty of opportunities for advancement, and therefore often requires experience. Aside from online certification, there are additional steps applicants need to follow. At TABC On The Fly, we believe in guiding seller-servers in the right direction and providing useful, honest advice.
If you're interested in becoming a bartender in Texas, here are some steps you can take to make yourself more appealing to potential employers:
1.   Make Sure You're of Legal Age
Like other states, Texas abides by some very specific minimum age laws for those looking to sell or serve alcohol. According to Texas law, the minimum age to sell or serve alcohol depends on the type of license or permit held by the establishment. In other words, the minimum age for employees depends on what type of business it is. For establishments where the alcohol is consumed on-premise, like bars and restaurants, you must be at least 18 years of age or older to sell or serve alcohol. This includes both servers and bartenders.
Note: Although you can't bartend under the age of 18, you can still sell alcohol for off-premise consumption at a grocery store or similar establishment.
2.   Get Yourself TABC Certified
One tip that will surely help you succeed is to become TABC certified. While TABC certification isn't required by law, most employers across the state require it. Therefore, it's something employers like to see and will help expedite the hiring process. Through the right certification course, you will gain the knowledge you need to make informed decisions and follow the law.
Some of the valuable lessons you'll pick up from a TABC certification course include:
Extensive knowledge of Texas alcohol laws;
How to avoid alcohol sales to minors and intoxicated persons;
How to properly check IDs; and
How to cut people off.
3.   Get Experience as a Server
Let us shoot you straight: Few bars will consider you if you don't have serving or bartending experience, and most restaurants promote bartenders from within their own serving staff. Gaining experience as a server is the absolute best first step you can take to becoming a bartender. You will gain invaluable experience that will be useful behind the bar, and will also have the opportunity to observe your own bar and bartenders closely on a daily basis and learn from them.
4.   Be a Barback
After you get hired as a server, tell management that you're also interested in helping as a barback, even part-time. A barback is a bartender's assistant, helping with tasks like prep and keeping product stocked throughout the shift. Working as a barback will give you firsthand experience and training regarding how to make drinks and how the bar operates.
If helping as a barback isn't possible at your place of employment, try asking if you can help with inventory. Many restaurants and bars take an inventory of all their alcoholic beverage products on a monthly basis. It's boring and monotonous but will teach you a great deal about different types of alcoholic beverage products, purchasing, and liquor cost. It will also go a long way in showing management how dedicated you are to helping, working your way up, and earning your spot behind the bar.
5.   Learn the Gift of Gab
Finally, you'll need to perfect the "tending" aspect of bartending. Your soft skills matter, so you want to be sure that you can make your guests at the bar comfortable with their surroundings and with you as their bartender. Hospitality is essential in the service industry, so this is an area to perfect in order to become an excellent bartender. The "gift of gab" is a big part of this. Being able to converse with guests is a vital part of bartending.
Get TABC Certified Today With TABC On The Fly
At TABC On The Fly, is to get you TABC certified on your own time and arm you with the knowledge you need to make informed decisions and follow the law. Whether you're a rookie taking the course for the first time or an industry veteran getting recertified, our self-paced course has you covered. Register online today to get the certification process started!
Back to Blog