Opportunities That Come with TABC Certification
October 12, 2023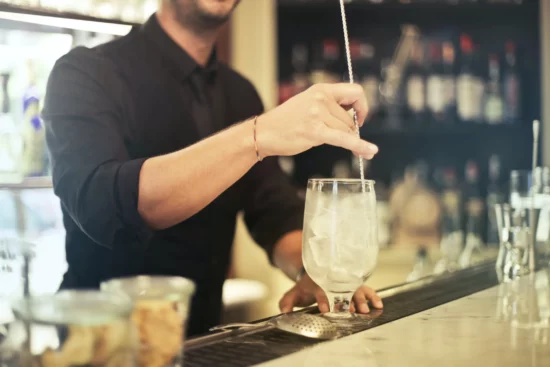 Texas Alcoholic Beverage Commission (TABC) certification, while not required by law, is required by most employers in Texas whose employees are involved in selling or serving alcohol. TABC certification covers various topics including laws and regulations, customer service, and responsible alcohol service.
TABC certification is highly valued by employers in the hospitality industry and opens up a world of employment opportunities for those who are certified. It also speeds up the hiring process when you get a new job. Let's get into the various roles TABC-certified individuals can take on in the alcohol industry.
TABC Certification for Bartenders
As a bartender, you're the face of the establishment and play a crucial role in ensuring customer satisfaction. You'll be responsible for preparing and serving alcoholic and non-alcoholic beverages, managing inventory, and ensuring all your customers are served responsibly. Being a bartender requires excellent communication and interpersonal skills to interact with guests. You'll need to be on your feet and alert for long periods of time.
TABC training is grounded in selling and serving alcohol responsibly and legally. Pursuing online TABC Certification equips you with the knowledge and skills to succeed as a bartender. You'll learn how identify when a customer has had too much to drink and prevent them from becoming intoxicated. You'll also learn how to handle difficult customers and diffuse potentially harmful situations.
TABC Certification for Servers
Servers need a good attitude, enthusiasm, the ability to remain calm under pressure and to multitask. Servers welcome and greet patrons, share featured items on the menu and answer any questions about the menu or the restaurant and, of course, deliver food and drinks to guests in a timely manner.
As a server, your TABC certification prepares you to serve alcoholic drinks and ensure that customers are served responsibly.
TABC certification online also teaches you how to identify the signs of intoxication, like slurred speech and unsteady gait, and how to intervene before a customer becomes a danger to themselves or others. You'll also learn how to check IDs and ensure your customers are of legal drinking age.
TABC Certification for Event Staff
When you work at a hospitality event like weddings, concerts, corporate events or other types of private events, you pitch in with setup and help to run the event smoothly. Your responsibilities might include checking bags before entering the event, verifying wristbands for alcohol consumption if necessary, ensuring guest satisfaction and safety. You may need to respond quickly to potential crowd control issues or conflicts.
As an event staffer, you may be tasked with serving hor d'oeuvres and cocktails.  As such, you're responsible for making sure alcohol is served responsibly at private events, checking IDs, and intervening if necessary. This is where a TABC certification comes into play.
The Value of TABC Certification for Restaurant Managers
Restaurant and bar managers should also be TABC certified, as they also qualify as employees involved in the sale or service of alcohol.
As a bar or restaurant manager, you must ensure that your establishment is in full compliance with the Texas Alcoholic Beverage Code and other Texas laws in addition to managing inventory and overseeing the quality of customer service that your bartenders and servers provide to guests.
TABC certification can give you the knowledge and skills to effectively manage staff and create a safe and enjoyable atmosphere for your customers. 
TABC Certification for Industries Outside of Hospitality
When we say, "selling or serving" alcohol, what distinction are we making? While restaurant servers and bartenders serve alcohol, employees of off-premise establishments like grocery, convenience, and liquor stores sell alcohol that customers consume elsewhere, and they should also be TABC certified.
Believe it or not, TABC certification is applicable to occupations beyond the hospitality industry.  For example, law enforcement agencies may require officers to get TABC-certified in order to better understand alcohol-related criminal offenses and uphold alcohol laws. Likewise, security personnel at events where alcohol is served must ensure attendees' safety and responsible behavior.
Online TABC Certification Helps Job Candidates Compete
Having TABC certification on your resume demonstrates your commitment to responsible alcohol service and that you're ready to start your new job immediately. You stand out in a competitive job market and increase your chances of getting hired.
If you're interested in obtaining your TABC certification, our online TABC training program is a convenient and easy way to achieve certification. Our online TABC certification course is self-paced, fast, mobile-friendly, and only $10.99. Also, your official TABC certificate will be available immediately after you pass the course.
Take advantage of the incredible job opportunities that come with TABC certification. Enroll for TABC On The Fly today!
Back to Blog