Top Ways to Improve Safety at Private Events
March 28, 2023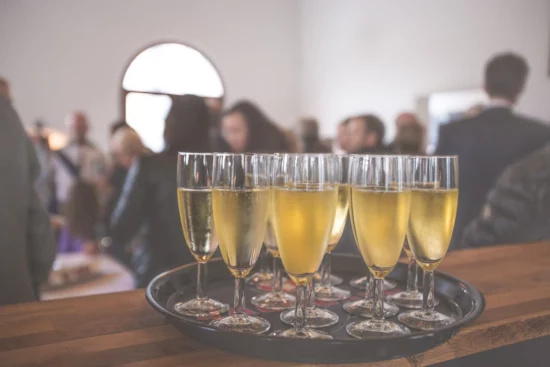 The Texas Alcoholic Beverage Commission (TABC) is the state agency that regulates the alcoholic beverage industry in Texas. When most of us think of the TABC we probably think about TABC certification and sting operations, but there's a lot more to it.
There are laws and rules for everything from how distillers can operate to running a private club.
In the end, all those rules come down to safety. As a server, bartender, or store clerk, it's your job to ensure everyone drinks responsibly, nobody gets hurt, and nothing gets broken. And at any function serving alcohol, those rules can be quite necessary indeed.
Weddings, work or school events, they all have one thing in common: emotions can run high, and adding alcohol to that mix can make things even more intense. Read on for some of the best ways to keep everyone feeling safe and having fun at your next event.
Stay Properly Staffed
To keep a crowd happy and peaceful, you'll need to be sure there are enough servers, bartenders, and other staff to handle the event. Every employee should be TABC certified, of course, and there's no better place to find that certification than TABC On The Fly.
Our locally operated online class moves you and your employees through alcohol service best practice training at your own pace.
Likewise, security should be hired in numbers that can control the crowd. The best security is unobtrusive, but still maintains a constant presence. Your door security should be key to your overall security profile as well. Door attendants can keep non-guests from accidentally entering the party, and perhaps even check on the sobriety of exiting revelers in case someone tries to drive home inebriated.
Call A Car
No drunk driving. This is a hard and fast rule, and one that bears repeating.
To let a guest drive away drunk is to participate in whatever happens to them next, and that could mean disaster. Keep rideshare or taxi services on standby, and don't be afraid to take away car keys if necessary. Risking a scene or ill will in the moment is not worth someone's life, no matter how obnoxious they're being.
Be Alert for Signs of Intoxication
On that note, it's important for everyone on your team to make a concerted effort to look for signs of intoxication and belligerence. Anyone displaying signs of intoxication should be cut off immediately and all staff should be notified.
These seem like common sense suggestions, but in the excitement and chaos of a party, keeping everybody happy and safe can be a lot harder than it seems. Someone who's being belligerent with their friends, or at a work function, is not someone who's making terrific choices, and it's your job to see that those choices affect as few patrons as possible.
…And for Intoxication
Loud or slurring voices are one sign of intoxication, and stumbling is another. As above, a person who drinks to excess at a work function is not making the right choices in general, and there is kindness in getting between people and their bad choices by cutting them off. Don't be afraid, and don't let your employees or coworkers be afraid either. Even if the subject gets angry, the rest of the crowd will likely thank you. And remember, if a guest is intoxicated or you have reason to believe that the next drink will cause them to be, then you're legally required to cut them off.
An open-bar function can be absolutely the greatest night of your life, but it can also get you fired from your job or seriously embarrassed in front of your friends and family. Depending on your drinking history and style, you either know your limits or you don't. It's contingent on employees working the event to keep a close eye on guests who may be intentionally or unintentionally drinking too much.
Get Your TABC Training Today
So how much is too much? With training from TABC On The Fly, you and your employees won't have to wonder.
TABC On The Fly is approved by the Texas Alcoholic Beverage Commission (TABC) and one of the largest providers of online TABC certification in the state of Texas. Our online TABC certification course is completely self-paced and just $10.99.
Register online today!
Back to Blog